Paylla! Gracias! Thank you! Obrigado! Arigato! Tak Sumiki! Merci! Grazie for coming home to Ayni Projects
Ayni Projects is dedicated to participating in the development of healthy communities by working with local leaders (in the Americas) to co-create and implement initiatives that include all members of the community in a reciprocal way whereby people give what they have to offer and receive what they need in return. It is the belief of Ayni Projects that in this way everyone becomes invested in the well-being of the whole community as the act of social reciprocity is synonymous with this well-being.
We continue to invite you to be a part of our schools and our model health care clinic that serves over 3,000 indigenous people in the Central Peruvian Andes.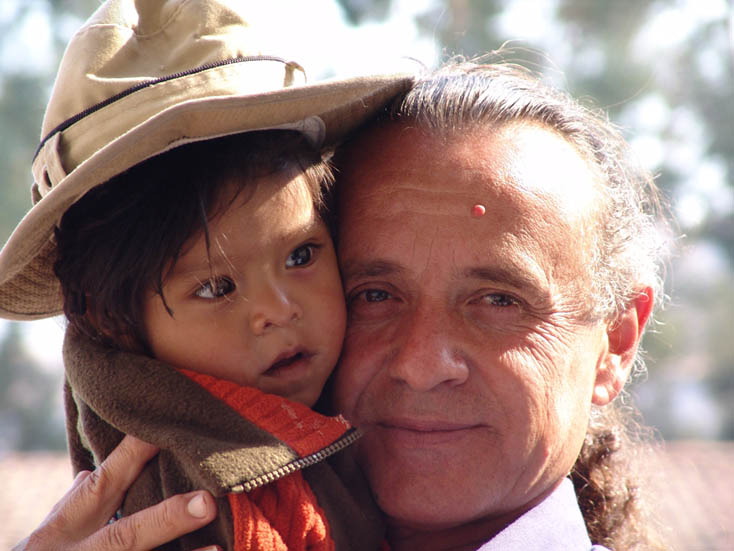 The best way to learn about who we are, and what we do is to watch our 6-minute online video (below left) about Ayni Projects. This online version of our DVD video can be viewed here on our website. Like our tour photo video (below), it is accompanied by Tito's music. The video, made in 2006 is dated, but we continue to show it because it captures the spirit of what we are about. For a review of our projects go to our contributions page.
If anyone would like the 6 minute DVD to show to friends about us we will gladly send you one. You can send your request to allison@ayniprojects.com
About Ayni Projects Video
Click icon above to view video
About Ayni Projects (Spanish)
Click icon above to view video
Ayni Projects is a 501(c)3 non-profit organization located in Petaluma, California in the United States of America. We fund projects aimed at aiding indigenous communities who have developed their own systems for addressing their needs in Peru. All donations made to Ayni Projects are greatly valued by the people whom they impact and are tax-deductible. Feel free to browse our website to get a feel for what we are accomplishing, and how you can get involved. Thank you.
At Ayni Projects, we believe that one of the keys to keeping the traditional Quechua culture of the Andes intact is the honoring of ancient ways, and the respectful introduction of modern possibilities in the areas of health, education, elder care and cottage industry.
By working in one focused area; the town of Carhuaz, and the nearby villages of La Merced, and Hualcan, we hope to create a holistic model of improvement that can be used in other towns and villages in Peru. Our inclusive approach maintains the following goals:
SCHOOLS:
Ayni Projects proudly sponsors The Chaupin School in the community of La Merced near the town of Carhuaz. This school is an example of how rural Peru can meld ancient Quechua wisdom and its teachings, with curriculum standards set nationally there. In this way, Quechua culture, tradition and identity can be preserved while the children also learn about the world in which they live.
HOSPITAL:
In August 2005, the Ayni Hospital of Hualcan opened its doors to serve the surrounding communities who otherwise would have a larger distance to cover before receiving adequate health care. The hospital seeks to galvanize local healers and encourage alternative means of treating illness. Staff members at the hospital also are involved in key community outreach programs having to do with well-baby visits and vaccinations. Ayni Projects supported the creation of the hospital for four years until it could become part of the National Health System.
SCHOLARSHIP:
The University of Huaraz located in Huaraz boasts an excellent educational opportunity for the young adults of the region. A room in Huaraz, books, transport, and tuition for 6 days of classes a week for one year costs a mere $2,400 but represents a huge obstacle to potential promising students who don't have the means to attend. Ayni Projects is currently funding one 5 year scholarship for a professional nurse-midwife student, and one 5 year University Engineering student. We are also giving scholarships to deserving youth to take courses of study in English, Culinary Arts, and Business. With the advent of our Madrina Padrino program, we are supporting children in the town of Carhuaz with school fees, school materials, and an after-school tutoring program for kids who are having trouble learning.
The Project has been offered a $9,000. Matching grant. Click here to see additional projects we are currently working on or have started.