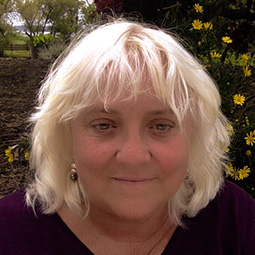 Ailish Schutz
Founder/President
Ailish Schutz, President of Ayni Projects, Co-Founder Chaupin: Centro de Sabituria Natural, and Co-Founder of Will Schutz Associates, now BCon International Network, has 25 years of experience in the field of Human Relations Consulting. She has a background in Body-Oriented Psychotherapy with extensive experience in working with groups and individuals as a group facilitator, coach and healer.
Her work is currently focused on the exploration of cross-cultural spiritual and healing traditions and the preservation of indigenous wisdom.
About Ayni Projects Ailish says the following. "I started Ayni Projects out of my desire to work with an inspired group of people, to see how together we can create a model that might inspire others to work across cultures in the spirit of Ayni, or reciprocity. We are focusing our projects at the moment on an area near the town of Carhuaz in the Peruvian Andes. Our work includes projects that have to do with education, healthcare, economic development and cultural preservation. Our projects are small, creative and fun. The spirit of our projects is as important as the practicality It is important to us that Love, Reciprocity, Openness, Mutual Connection, Curiosity and Self Awareness inform our actions and that all people involved in the projects benefit from a feeling of partnership."
Ailish, Tito, and Elba regularly take group tours to Peru for two to three weeks. These tours benefit Ayni Projects.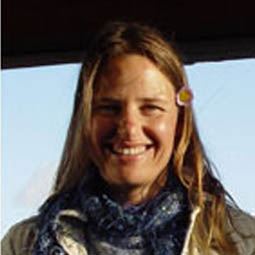 Allison Pinto
Executive Director
Allison Pinto, Executive Director of Ayni Projects has several years experience in the non-profit sector. She has traveled extensively and currently resides in South America. Having graduated from the University of California, Santa Barbara, and worked in business for two decades, her most recent work as a private consultant and coach has primed her for this multi-faceted work as Director. To contact Allison, please write to allison@ayniprojects.com.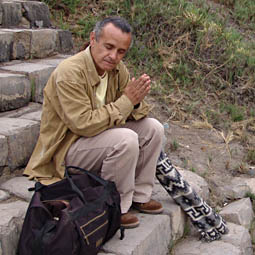 Tito La Rosa
For more than a decade, La Rosa, a descendent of Quechua Indians of the Peruvian Andes, has been recovering and preserving, studying, and intuiting the ancestral music of Peru. Proceeds from concerts, healings & workshops that Tito conducts in the United States benefit Ayni Projects working on a number of projects committed to the preservation of the cultural legacy of the Quechua Indians in the Andes.
La Rosa was asked by the Peruvian Institute of Culture to play 2,000-year-old instruments at the Museum of the Lord of Sipan to reinvent the sounds these instruments made. In recreating the sounds of this culture that had disappeared into time, La Rosa stated: "Time, like death, is a lie."
Experimenting with the sounds of these 2000-year-old musical instruments, speaking with the archeologists, listening to the sounds of the wind and the murmuring of the birds when flying, La Rosa was deeply moved by this acoustical and magical ochican world, resulting in new "ancient" compositions.
Featured guest artist on New Age superstar Kitaro's 2001 Grammy-winning CD "Thinking of You," La Rosa has recently toured with Kitaro in Japan. Kitaro has said of La Rosa, "His attraction to the Spirit dimension and his love of all things from the natural world allow him to traverse musical landscapes with tranquility and deep passion." La Rosa has also recorded with Mary Youngblood on his Silver Wave record label (www.SilverWave.com), of which BILLBOARD Magazine says: "La Rosa and Youngblood interweave North and South American winds like smoke.." La Rosa's 2002 CD, "The Prophecy of the Eagle and the Condor" was nominated for a Native American Music Award, for Best World Music Recording.
Tito is also a Curandeiro de Sonido, a Shaman of Music. When performing ritual and ceremony for healing, he enters into an altered state to bring forth sound that elevates the frequency of an individual and allows for healing and balance to occur.
La Rosa was a main presenter at the International Conference on Traditional Instruments in Contemporary Music, sponsored by the French Government. He also took part in "Heart and Hands: Musical Instrument Makers of America," a Smithsonian traveling exhibit.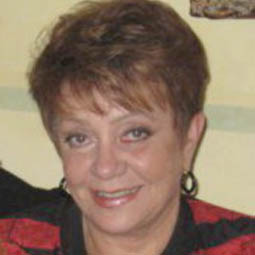 Barbara Courtney
Barbara Courtney has been a coach, advisor, and counselor to thousands of people for over 40 years. In addition to her many years of professional and life experience, she draws on her intuitive and psychic abilities to assist people with any problem or opportunity that they might present her with. Her work encompasses everything from medical clairvoyance to executive coaching and business consulting, including helping corporations understand and predict trends. She has assisted in all manner of family problems and crisis, from working problems that come down through generations all the way to understanding one's quirky pets.
No problem is too big or too small. No matter the size of gravity of the challenge, Barbara's grand sense of humor and innate compassionate curiosity can penetrate to the heart of the matter to affect transformation, understanding, and healing.
Her own family and her screwball group of friends really keep her on her toes. She has helped keep Ayni Projects afloat by pulling strings in the invisible world for the last 8 years and who knows how many lifetimes before that. (we shudder to even to think about that.)
In gratitude and as punishment for these acts of creativity and generosity we asked her to join the board. To our delight she accepted.
Welcome Barbara!