Greetings from Ayni Projects and Blessed Petaluma!
After three years, we are so excited to welcome Tito back! We have been trying to find the best time for his return all year. Given the ups and downs of covid, these dates have constantly been moving. Finally, we, along with Tito, have arrived at the idea that we will proceed carefully and safely. We will limit the group size of everything offered to less than the usual size.
People will be able to spread out more, wear masks if they want and practice hand signs that will communicate if it is ok to be approached by Tito when he is playing or not. We will offer an additional larger concert, and are looking at whether to have it inside or to try to have it outside. We will let you know more about that when we have more information. Tito, and all of us supporting Tito, will test before any event. We also recommend but do not require that participants do a rapid test before they come to an event. They can be ordered for free from the US government at Covid.gov.
We look forward to seeing you. We have all been through so much these last years; it will be great to gather together old friends and Tito Aficionados again and share in the music's beauty, magic, and healing sounds.
Please send this invitation to anyone that you feel might be interested. We have just discovered that our 2000-person mailing list is lost. So we are starting from scratch! Please help - share this announcement with anyone interested so all who want to attend can be informed and sign on to our mailing list.
Thank you,
I look forward to seeing you.
Much Love, Ailish Schutz
Reflections from Tito on the nature of the Return
In our tradition, return is a principle of life. The return is a path that takes you to your inner world. The return links you with your roots, with your essence, with your lineage, with your ancestors, with your mother, with your grandmother.
In our tradition we have many word-symbols, one of them is "PACHAKUTI". Pacha is a unit of life, Kuti is the return as a circular principle. Pachakuti is the return to life as unity, to life as essence, to life as continuity.
On this visit, we will take the return as a metaphor. The return is the meaning of the journey. The return as an encounter: the return to connectedness, the return to displays of affection, the return to hugs, the return to freedom.
Concert - Hermanos Shamanicos with Tito La Rosa, Ian Dogole and René Jenkins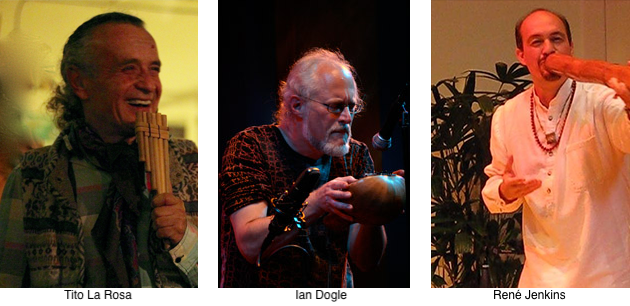 For event times and tickets visit our tickets page below.
$35. per person. Maximum 80 people.
Sound Healing
Concerts with Ancestral and Contemporary Instruments
Come settle into a sofa or chair or lie on the carpet and pillows and enter a shamanic field of healing sounds that take you deeply within. Let the sounds penetrate where they need to go to affect healing on emotional spiritual and physical levels. Approximately 2 hours.
For event times and tickets visit our tickets page below.
$60. per person. Maximum 30 people.
Ritual Ceremony of Baptism with Flowers
La Challah de Flores. Handed lovingly down from the Q'ero Nation of Peru. Steeped in the tradition of Munay (to be in the service of unconditional love) and invoking the Pachamama (Mother Earth), Tito transforms the music from his ancestral instruments into a healing medium.
This healing ceremony can last between 3 to 4 hours . Tito enters into the plane of no time, where the power of love and healing also know no limits. If you have something to let go of, something to mend, a prayer to send out, or something to celebrate, this is a time to seed your own healing and transformation. The ceremony is unlike anything you have ever experienced. (Limited to 12 people).
For event times and tickets visit our tickets page below.
$150. per person. Maximum 12 people.
Sacred Chakana Ceremony

Workshop/ Ceremony
"The Chakana (square cross) is the symbol of symbols in the Ancestral Andean Tradition. It is said that it was not created and that it always existed. The Chakana is that which orders the universe, the space that is within and the space that is outside. Within the Chakana are contained the three worlds. The Grandfathers and the Grandmothers of the tradition divided the world, the Chakana, into these three worlds, the Hanan Pacha, the world above, The Uhju Pacha, the world within, and the Kay Pacha, the world of the present or the here and now.
The Chakana is a celebration of life and its diversity. It is a bridge to the cosmic, to the transcendent, and to ones interior. The Chakana is sacred geometry, it is sound and it is light. We will work with the four sacred directions, with the three worlds and with with your chaupin, your center, your power, and your essence. This workshop/ceremony is a shamanic journey of teachings and sound that explore the symbols of the traditional Andean Altar, the inner world of the Andean Cosmovision through word, sound, writing, drawing and sharing in small groups.
Conducted by Tito La Rosa and Ailish Schutz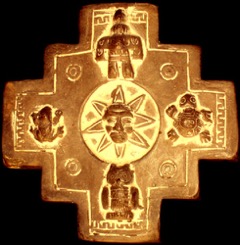 For event times and tickets visit our tickets page below.
This ceremony workshop lasts between four and six hours.
$160 per person. Maximum 12 people.
Studying with Tito
Los Nueve Portales Sonoros de la Tradicion
The Nine Sound Portals of the Tradition: Healing with Ancestral Sounds of Ancient Peru. A workshop about working shamanically with sound.
A two day course four hours per day.
For event times and tickets visit our tickets page below.
$250. per person. Maximum 16 people. People can just come one day if they want and pay half just contact Ailish at 415-990-9042 to make arrangements.
Private Sound Healing Sessions
By appointment, please call 415-990-9042. - 1 person
 $300. - 2 people 
$350. - 3 people
 $375. 4 people $400 There are a total of four available appointments for private sessions and Oracle sessions.
Reading of the Oracle of the Abuelos: THE MESA ANDINA
This work is based on the Andean Cosmovision or Mesa. An Andean Mesa is an altar with symbols of power from our tradition. The ancient Elders or AMAUTAS who were the teachers and guardians of the tradition, passed down to us symbols to be read and interpreted. These Symbols are an Oracle. An Oracle is a message, it is a symbolic path, a guide. An Oracle is a metaphor of Life. In this one on one session we work with the Andean mesa, a sacred altar of the Tradition along with the sounds and spirits of 13 musical instruments.
The session lasts two hours. $300 One person, $350 for a couple. By appointment 415-990-9042.
Private Music Lessons
Tito is available to work with individuals on learning instruments that he plays or to assist students in working with their own instruments and sound healing practice. For more information or an appointment, please call 415-990-9042.
If your interested in Tito's music remember that CDs & MP3s can be purchased online at www.SerpienteAlada.com.