Tito La Rosa SF Bay Area August/September 2017
August 29h - September 5th
Ayni Projects Welcomes Back Tito La Rosa
One Week, August 29th to September 5th.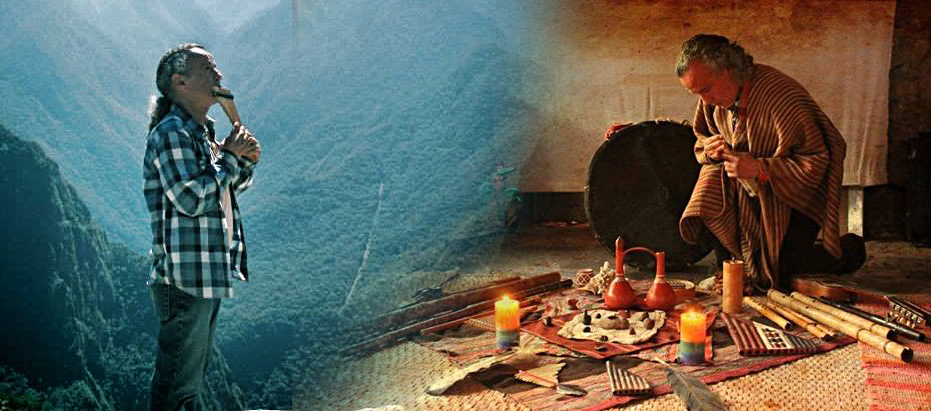 You are invited to
Munay, El Poder del Amor
Munay, the Power of Love
Celebrating the Healing Power of Sound.
"Sound as seed allows you to cultivate the warmth in your chest so that you can allow it to open and glow. It lets you build your own history, make your own path. Sound as invisible energy fills you with strength, awakens your inner warrior, and connects you with your center so that you can make the major changes that you need to make in your life. Sound is luminous vibration that lets you leave your shadows and the darkness of your trauma so that you can be renewed and return to life. Luminous vibration can connect you to the divine and with your essence." -- Tito La Rosa (spoken at a course on working shamanically with sound).
Concert
Benefit Concert at Munay Farm with Tito La Rosa and Ian Dogole


This evening will include Pisco Sours and an assortment of desserts. Friday Night, September 1st, 7pm $35.

Proceeds from this concert will go to support Scholarships in Carhuaz Peru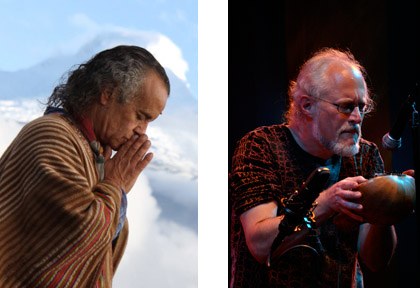 Group Sound Healing Session with Tito
Come settle into a sofa or chair or lie on the carpet and pillows and enter a shamanic field of healing sounds that take you deeply within. Let the sounds penetrate where they need to go to affect healing on all levels.
Monday, Labor Day, September 4th, 4pm
$45. per person.
Purchase Tickets Online
Flower Ceremonies
La Challah de Flores. Handed lovingly down from the Q'ero Nation of Peru, Tito La Rosa gives to us the legacy of the Flower Ceremony. Steeped in the tradition of Munay (to be in the service of unconditional love) and invoking the Pachamama (Mother Earth), he transforms the music from his ancient instruments into a healing medium.
This healing ceremony can last between 4-5 hours . Tito enters into the plane of no time, where the power of love and healing also know no limits. If you have something to let go of, something to mend, a prayer to send out, or something to celebrate, this is a time to seed your own healing and transformation. The ceremony is unlike anything you have ever experienced. (Limited to 14 people) more information What is a Flower Ceremony.
Wednesday, August 30th, 7pm
Thursday, August 31st, 7pm
Maximum 14 people $125.
Purchase Tickets Online
Sacred Chakana Ceremony
This workshop/ceremony is a shamanic journey of teachings and sound that explore the symbols of the traditional Andean Altar It is a journey into the inner world of the Andean Cosmovision through word, sound writing and drawing and sharing in small groups.. Below Tito writes: "The Chakana (square cross) is the symbol of symbols in the Ancestral Andean Tradition. It is said that it was not created and that it always existed. The Chakana is that which orders the universe, the space that is within and the space that is outside. Within the Chakana are contained the three worlds. The Hanan Pacha, The Uhju Pacha and the Kay Pacha. The Grandfathers and the Grandmothers of the tradition divided the world, the Chakana, into these three worlds, the Hanan Pacha, the world above, The Uhju Pacha, the world within, and the Kay Pacha, the world of the present or the here and now. This workshop-ceremony is a shamanic journey into these three dimensions of time and space and life. The Chakana is also a celebration of life and its diversity. It is a bridge to the cosmic, to the trancendent, and to ones interior. The Chakana is sacred geometry, it is sound and it is Light. In this workshop we will also work with the four sacred directions, with your chaupin, your center, your power, and your essence.
Saturday September 2nd, 1pm
This ceremony workshop lasts between four and six hours. $125.
Purchase Tickets Online
Studying with Tito
El Poder Curativa de los instrumentos Ancestrales de Antigua Peru

(The Healing Power of the Ancestral Instruments of Ancient Peru)
This course is my favorite thing that Tito does." -- Ailish Schutz
This class in sound healing from Tito's perspective, is an exploration of how to work with sound in a shamanic way to assist in healing. It is both demonstration and hands on practice and is different every time it is taught. One does not have to be a musician to participate.
Sunday September 3rd, 1pm $125
Purchase Tickets Online
Private Sound Healing Sessions
By appointment, please call 415-990-9042. - 1 person
 $300. - 2 people 
$350. - 3 people
 $375. 4 people $400 There are a total of four available appointments for private sessions and Oracle sessions.
Reading of the Oracle of the Abuelos: THE MESA ANDINA
This work is based on the Andean Cosmovision or Mesa. An Andean Mesa is an altar with symbols of power from our tradition. The ancient Elders or AMAUTAS who were the teachers and guardians of the tradition, passed down to us symbols to be read and interpreted. These Symbols are an Oracle. An Oracle is a message, it is a symbolic path, a guide. An Oracle is a metaphor of Life. In this one on one session we work with the Andean mesa, a sacred altar of the Tradition along with the sounds and spirits of 13 musical instruments.
The session lasts two hours. $300 One person, $350 for a couple. By appointment 415-990-9042.