Ayni Projects and Concerts at the Farm Present
Ian Dogole & René Jenkins
with Special Guest Rafael Meza
Sacred Spaces and Wild Places
Saturday Evening, July 9
7:00 pm – Doors Open / 8:00 pm – Concert
Two adventurous musical spirits who delight in the here and now. Over the last few years, Global Fusion Music recording artist and multipercussionist Ian Dogole (www.iandogole.com) and master multi-instrumentalist and sound healer René Jenkins (www.vibetherapy.org) have developed a symbiotic chemistry that knows no bounds. Their musical forays are deeply rooted in the ancestral indigenous music cultures of the Americas, Africa and beyond and when combined with their irrepressible spirit of adventure, the result is a sonic feast for the senses and an uplifting, healing experience that is transformational.
On Saturday evening, July 9th, Ian and René will once again unite their talents and musical worldviews in the warm and welcoming Munay Farm sanctuary. If you were in attendance last year at René's Weya CD Release Concert or at the performance featuring Peruvian multi-instrumentalist/shaman Tito La Rosa, you already know how compelling and entrancing these musicians are. And we have a delightful treat at the conclusion of this performance, when the charming and lyrical Rafael Meza will regale us with his guitar and voice (with Ian and René accompanying) on a few "huayños," (or "wayñus" in Quechua), a highly popular musical form that originated in the Andean highlands. The huayño is believed to have developed during colonial Peruvian times (mid-1500s). This music is sure to send everyone home with a smile on their face and a bounce in their step.
Feel free to arrive up to an hour before the show so that you can commune with one another before getting comfortable in our lovely sound temple. Adult beverages will be available for purchase prior to the concert. And when the concert is over, you can go sit by the pond and if the frogs are in just the right mood, they might sing for you.
Musicians:
René Jenkins – Native American, Zapotec and Mayan drone flutes, didjeridu, antara (Andean pan flute), djembe and assorted bowls, bells and rattles
Ian Dogole – udu, kalimbas, hang, doumbek, talking drum, cajon, bells and shakers
Rafael Meza – guitar and vocals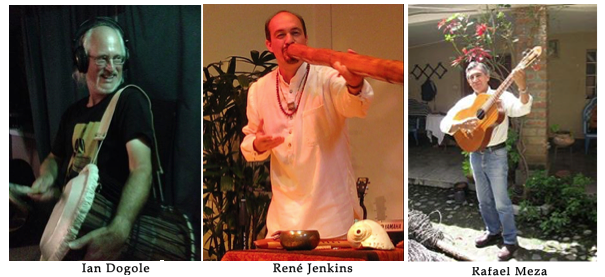 View a video of René Jenkins, Ian Dogole and Kim Atkinson in concert – https://www.youtube.com/watch?v=Fcd2b4RzrI8
Tickets: $25 – Wine and other beverages will be available for purchase at a nominal price
A portion of the proceeds from this concert will go to support the Chaupin School in Carhuaz, Peru.
NOTE: We are no longer serving food at these concerts, so please don't arrive hungry.
Purchase tickets online at http://www.ayniprojects.com/news-and-events/events.html.
* Exact concert location will be emailed upon completion of your online purchase.