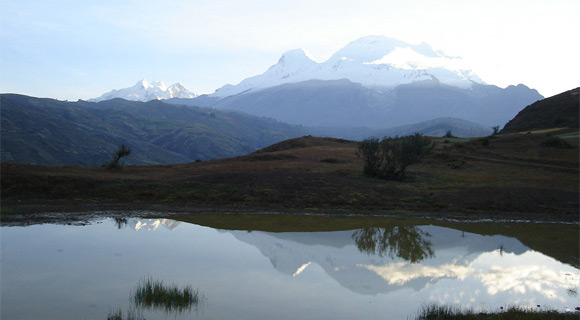 We are excited to announce our 2005 tour to Ancash Peru. We will be taking a group in August on a special AYNI tour. For a taste of the journey, please click on our 12 minute picture show that is accompanied by Tito's music from our 2004 trip. You can also view a pdf file with the itinerary and other details about the tour.
The Andes in central Peru are an area of breathtaking beauty. We will be staying in the area near Carhuaz at the foot of the mighty Huascaran, the tallest mountain in South America where our projects are focused. This area has not yet attracted many tourists compared to the areas around Macchu Picchu. Here, nestled in the Callejon de Huaylas, between the Cordillera Blanca and the Cordillera Negra, the Quechua people live close to the earth as they have for thousands of years.
I hope that you want to join us in August or another time next year. However, even in your busy day please join us now for just for 12 minutes to enjoy the wonderful photos and music of a place and people so dear to our hearts.
2004 Tour Photo Video

Click icon above To view video.

Brochure

Download in .pdf format.
About Ayni Projects Video

Click icon above To view video.