Canto al Agua, Canto a la Vida
Songs for the Water, Songs for Life
A house concert Sponsored by Ayni Projects
Thursday, July 26, 7:30pm, Munay Farm, Petaluma
$20 to $30 sliding scale. Tickets at $30 can be bought online. To pay less please call Ailish at 707 981 8770 to reserve.
30% percent of ticket sales will go to a fund to support the preservation of the lagoons on Cajamarca, Peru.
to purchase tickets please call 707 981-8770
Or click this link to purchase tickets on line.
Directions to the concert will be sent when you buy or reserve your ticket.
We invite you to join us in an evening of music and prayer for the Waters of South America and the world.This will be an evening of Chilean and Peruvian music as well as a time to come together and pray for the Waters of our planet in solidarity with the brothers and sisters of Cajamarca, Peru, who have recently been marching in the Northern Region of Peru in protest of the mining projects in the area that could potentially destroy their sacred lagoons, and with them the water sources in the Region. We will have a prayer at the end of the concert for our beloved Mama Colla, our Mother Water.
| | | |
| --- | --- | --- |
| Claudia Cuentas is a Peruvian multi-instrumentalist, singer and sound healer that works with families and children using music and the Arts as a resource for healing and reconciliation between communities. Claudia is pleased to be part of this event and is committed to create circles throughout the world that preserve our beloved Pachamama and her resources. |     | |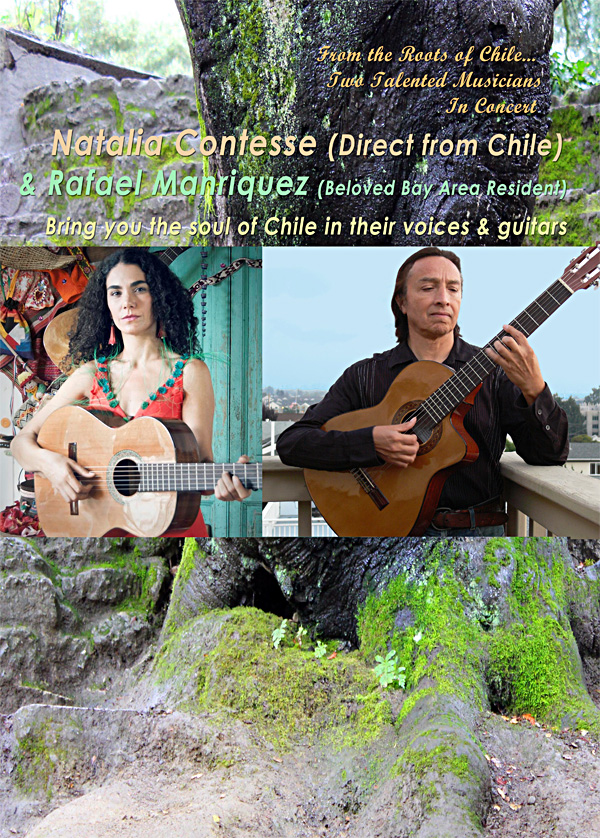 Chilean singer, songwriter, investigator, defender of the water, Natalia Contesse possesses a strong connection to the Earth and a passionate spirit. Natalia will be presenting for the first time in the United States her outstanding CD "Puñado de Tierra," a production funded by The Music Foundation of Chile and Sello Azul.Natalia mixes Chilean Traditions like the Cueca, la Tonada and the Guitarra Campesina to recover the roots of South American Folklore. She has traveled throughout different places in Chile and America, exploring culture through meeting people, sharing music and learning about the local customs, beliefs and cosmovision. www.nataliacontesse.scd.cl/
Rafael Manríquez has been one of the leading exponents of Latin American music in the San Francisco Bay Area for over twenty years.Originally from Santiago, Chile, Rafael brings us the gift of both his exquisite voice and remarkable skill on Latin American string instruments. www.rafaelmanriquez.com/