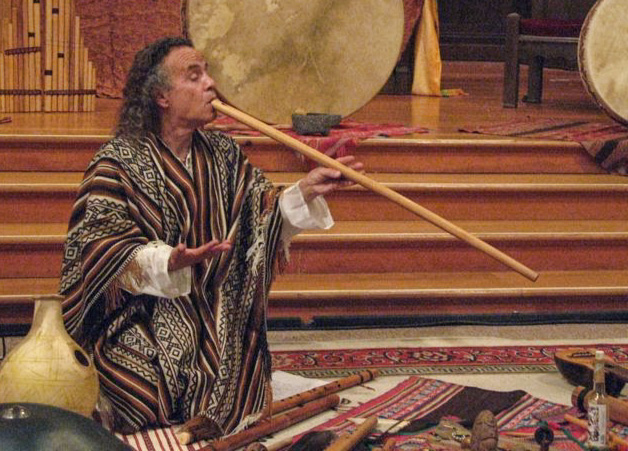 HELLO EVERYONE!
I am happy to tell you that we have a treat for Summer's end and the beginning of Autumn. Tito La Rosa is coming through for a few days at the end of August and the end of September. PLEASE PASS THE WORD TO YOUR FRIENDS!
Below please find the dates and events. We hope to see you at Munay Farm in Petaluma. I am happy to say that we are making changes to the concert room to improve the lighting and the ventilation. You can buy Tickets on line at http://www.ayniprojects.com/news-and-events/events.html
Concerts
Friday August 31, 8pm, Tito and Ian Dogle - (This concert was originally billed to be with Jennifer Curtis who can not attend due to a death in her family.)
Friday September 28, 8pm, Tito and Claudia Cuentas. We will be celebrating Tito's 60th Birthday. He does not read these announcements so we will surprise him in some way. Stay Tuned and mums the word. His actual birthday is October 2.
concert tickets $30.
Flower ceremonies
Wednesday September 5th, 6pm
Thursday September 27th, 6pm
Flower Ceremonies $100 to $150. sliding scale
maximum 14 people
Sound Healing Class
Saturday September 29, noon to 6pm or so. Topic to be announced $125.00. maximum 15 people
I would like to hear from folks who are studying with Tito to tell me what you would like to see at the curso.
Private Sound Healing Ceremonies.
There will be times that Tito can offer a Private ceremony for 1 to 4 people.
Please call Ailish at 707 981 8770 for reservations
As always we are raising money for the Chaupin School in the town if Carhuaz, Peru Tito's pueblo in the Andes.
We invite you to help us in anyway you can!
Peru Tour
There will be two groups going down to do a tour with Tito in October and November, If you are interested, please contact me so I can connect you to the organizers if these trips. This email address is being protected from spambots. You need JavaScript enabled to view it. or 707 981 8770.
Thank You! We look forward to sharing the healing sounds of the Maestro and his friends.
Un abrazote, Ailish
---