UPDATED!
AYNI PROJECTS PRESENTS

Tito La Rosa Final Events!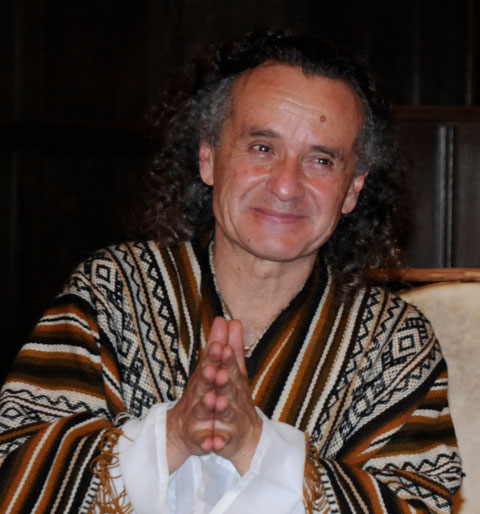 Flower Ceremony
in Petaluma
7pm to about 11pm Thursday, June 20
sliding scale $80 to $125.
minimum 4 people, maximum 12 people
Tickets available online here
What is a flower ceremony
This sound healing ceremony and baptism with flowers handed down by the Q'ero of the Andes near Cusco is an experience of deep beauty and spirit. If you have never experienced one of these, then maybe this is the time!
Chakana Sagrada Ceremonia
Wednesday June 19, 7pm to 9:30pm
Cost: $100.
To enroll in this please call Ailish directly 415-389-1303
This workshop/ceremony needs exactly 4 people, no more, no less
It involves reading the symbols of the traditional Andean Altar for each of the four people as well as experiencing the work through sound. Below Tito writes:

The Chakana (square cross) is the symbol of symbols in the Ancestral Andean Tradition. It is said that it was not created and that it always existed. The chakana is that which orders the universe, the space that is within and the space that is outside. Within the Chakana is contained the three worlds. The Hanan Pacha, The Uhju Pacha and the Kay Pacha. The Grandfaters and the Grandmothers of the tradition divided the world, the Chakana, into these three worlds, the Hanan Pacha, the world above, The Uhju Pacha, the world within, and the Kay pacha, the world of the present or the here and now. In this workshop-ceremony we will experience these three dimensions of time and space and life. The Chakana is also a celebration of life and its diversity.

The Chakana is also a bridge to the cosmic, to the trancedent, and to ones interior. The Chakana is sacred geometry, it is sound and it is Light. In this workshop we will work with the four sacred directions, with your chaupin, your center, your power, your essence.
Sound Healing Class
Moved to June 23rd at 2pm
in Petaluma
Sunday June 23 2pm to 8pm
Sliding scale $90 to $125. 14 people maximum
Tickets available online here
El Poder Curativa de los Instrumentos Ancestrales de Antigua Peru This class is always new and different and is filled with wisdom, humor and skill building for sound healers. The work is linked to the tradition and teaching of the Cosmovisionof the Ancient Andean Culture..You do not have to be a musician to attend. The course focus on how to work shamanicaly with sound to facilitate opening and healing.
Private Music lessons and Private sound healing ceremonies are also available.
To register for any of these events please go to www.ayniprojects.com
for further questions, call Ailish at 707-981-8770 or write her at This email address is being protected from spambots. You need JavaScript enabled to view it.

Tito has many flutes to sell and soon we are expecting a shipment of silbadoras
(Peruvian Whistling water vessels)
If you are interested in buying one please email me so that I can add you to the list.

Tito's work helps Ayni Projects fund the Chaupin School in the town of Carhuaz in Ancash., Peru.
Thank you for your participation.
We hope to see you soon!
Please share via your social network and forward this announcement to your friends that might be interested using the icons below. Thank you!