Concerts at the Farm Series

(North Petaluma*)
Alex de Grassi, Ian Dogole & Paul McCandless
Saturday Evening, September 12
7:00 pm (Pre-concert Culinary Treats) / 8:00 pm Concert
Three originals. Three musical explorers. Their music knows no boundaries.
As the summer season draws to a close, the Concerts at the Farm Series will fire up again on Saturday evening, September 12, when Alex de Grassi, Paul McCandless and Ian Dogole take the Munay Farm "stage" for an unforgettable evening of highly adventurous music. Whether playing jazz, indigenous music from the far corners of the globe or any other style that inspires their quest, these three innovators revel in the art of musical story-telling along with improvisational forays into the great unknown.
This concert is likely to sell out so be sure to reserve your seat right away to share in an unforgettable evening of music.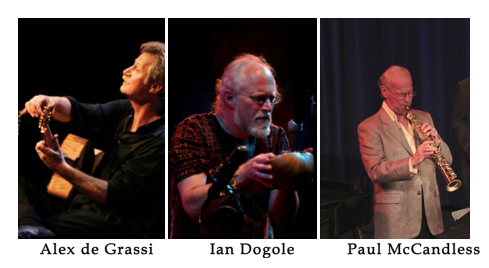 • Alex de Grassi – guitar
• Ian Dogole – global percussion
• Paul McCandless – woodwinds
Grammy-nominated guitarist Alex de Grassi's early Windham Hill recordings of original music as well as his arrangements of folk, jazz, and world music have influenced a whole generation of young players. For more information, visit www.degrassi.com
Multipercussionst Ian Dogole's most recent recording, "Outside the Box – Jazz Journeys & Worlds Beyond," attained Top 50 airplay on the jazzweek.com radio airplay list. He was recently awarded a grant from the San Francisco Friends of Chamber Music (SFFCM) to present a tribute concert honoring the Afro-inspired musical legacy of legendary jazz pianist Randy Weston. For more information, visit www.iandogole.com
During a distinguished career, Grammy-nominated woodwind virtuoso and composer Paul McCandless has brought a soaring lyricism to his playing and composing that has been integral to the ensemble sound of two seminal world music bands, the original Paul Winter Consort and the relentlessly innovative quartet, Oregon. For more information, visit http://oregonband.com/bio/paul-mccandless/
Tickets: $35 (Includes an appetizer, something sweet and a beverage of your choice (wine or non-alcoholic). Additional appetizers and beverages will be available at a nominal price.
To purchase tickets online, visit http://www.ayniprojects.com/news-and-events/events.html
Proceeds from this concert will go to support the Chaupin School in Carhuaz, Peru.
* Exact concert location will be emailed upon completion of your online purchase.